We are ready to partner with govt agencies for the development – lDPIL
The public outbursts by the representatives of the six Council Chairmen in Ikorodu Division area of Lagos State, Southwest, Nigeria, against the divisional security architecture, Ikorodu Division Peace Initiative Limited (IDPIL/GTE), have continued to generate reactions.
The entire royal fathers in the division whose idea it was to put in place the initiative, with eminent individuals incharge, to tackle high rate of insecurity that Ikorodu witnessed in the recent past, had, at the Adeboruwa palace venue of the Scholarship and Bursary awards worth N20milion on Saturday, where council administrators had again voiced their opposition, reiterated their support for IDPIL, as well as many other eminent personalities.
The Chairman, Igbogbo/Bayeku Local Council Development Area (LCDA), Builder Sesan Daini, had expressed the Council Chairmen's opposition quoting relevant sections of the Nigerian Constitution to establish security issue is sole responsibility of the government which Local Government represents at the grassroots level.
He said that any initiative established on security must be with clear input and understanding of the Councils.
However, Otunba Ganiyu Olusegun Abiru, in his official capacity as the Executive Secretary, IDPIL/GTE, described the Council Chairmen's outburst as presented by Igbogbo/Bayeku LCDA Council boss, as unfortunate and unbecoming.
The former Clerk/Permanent Secretary, Lagos State House of Assembly, said that it is important for the body to set the record straight, adding that IDPIL is not in contest with the Council Chairmen and that in establishing the initiative, they did everything to get the six Council Chairmen in the division involved from the inception but all to no avail.
"Let me say for clarity that the IDPIL is not contesting any position with them. We appreciate the fact that they are government officials and Chairmen of various local governments and that was indeed the reason that we invited (to be part of the initiative) at the initial stage", Otunba Abiru said.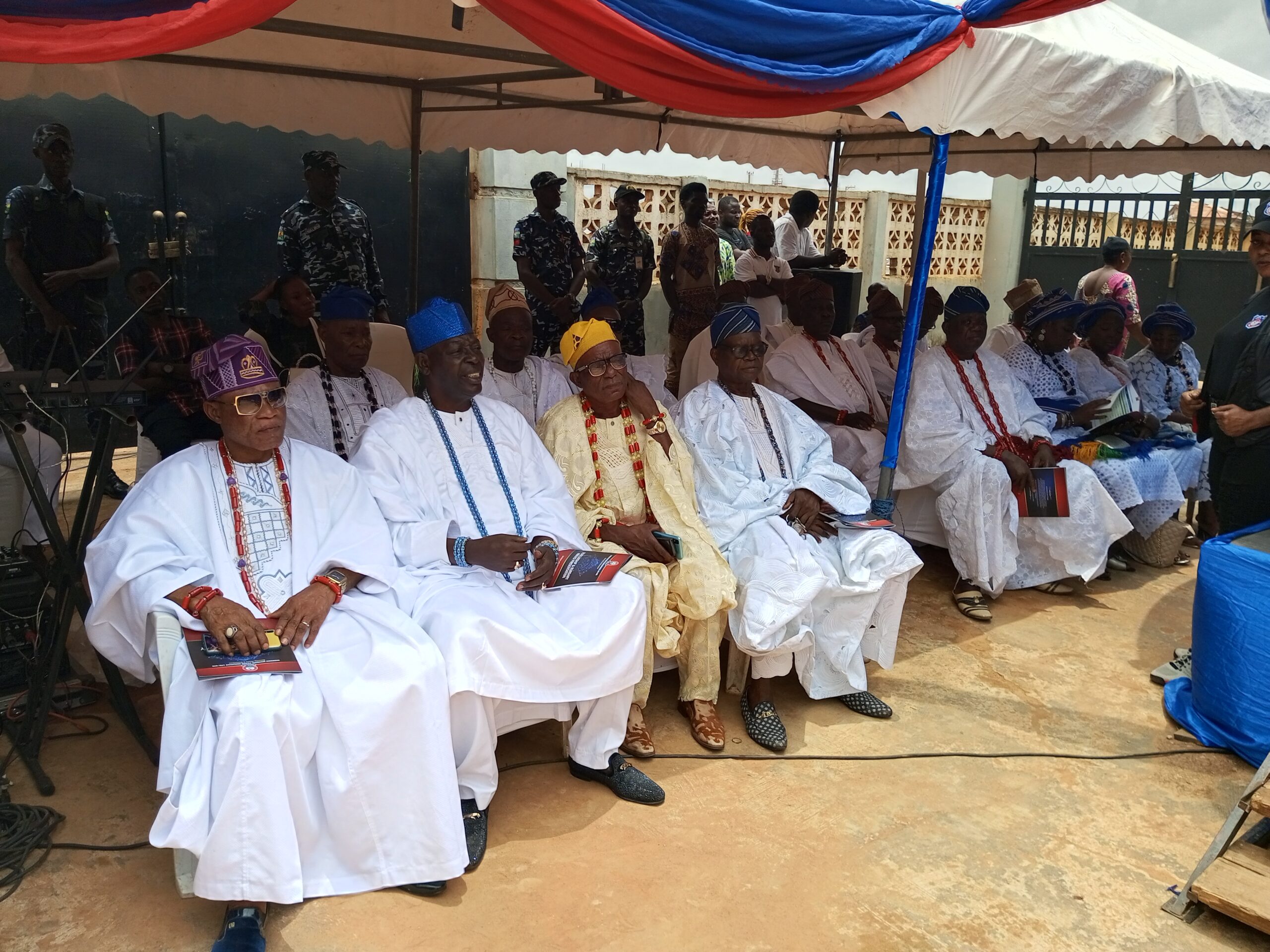 We were not even treated well when we went to their offices for discussions. When we call a meeting at 10 am, you will see them strolling in at 12.30 pm.
"I want the pressmen to know the genesis of this so that people will not be misinformed. We have tried to bring them into the folds to discuss and brainstorm together. Asipa Kaoli has done so much on this issue. He had met with them, even some Obas asked them to sheath their swords and let us work as one so that collectively, we can make Ikorodu a prosperous community", Abiru explained.
"For him (Sesan Daini, Chairman, Igbogbo/Bayeku LCDA) to now come out in the open and say that we never invited them to show the kind of person he is. The way he behaved, nobody, I repeat, nobody who has a genuine aboriginal status of Ikorodu would ever misbehave in the presence of Kabiyesi like that".
The highly revered community leader added that the outburst by the young Council boss against the security initiative in the presence of royal fathers and guests diminished him.
"I don't know what he was trying to prove, but I think what he did (at the presentation ceremony at the Adeboruwa palace) further diminished and discounted his personality within Ikorodu Division and if he had the comments of the people, he will be unhappy with himself," Abiru said.
"We are not saying that we are alternative to the local government, neither are we saying we are alternative to the Nigeria Police. Even the section of the Constitution that he quoted, he wasn't quoting rightly. If he had read further, he would realize that he has shot himself in the leg.
"What we are saying is that there must be an exhibition of decorum whenever we are in public. To have publicly said that we did not take them into cognizance is very disappointing and unbecoming of a status of a person like that", IDPIL Executive Secretary further said.
Citing other instances that the Council Chairmen failed to participate in the community initiatives towards the development of the Ikorodu Division, Otunba Abiru charged them to be up and doing and be alive to their responsibilities.
"We are not confronting or fighting them, even when they said what they had to say, the Chairman of the IDPIL, Odofin Ogunsanya was even begging them that he's not fighting them.
"The position that they hold demands a lot and they must discharge their responsibilities. I cannot understand having something that concerns the Ikorodu Division and you invite Council Chairmen to such but they would not come. We have invited them for important gatherings where development of Ikorodu were discussed, none of them came", he said.
"When we held the security parley, none of them came and also the discussion regarding the rampaging of cultism in Ikorodu, none came either. All of these show what is happening. They should not think that because they are there today, they will still be there tomorrow".
He explained that it was the rampaging cultist killings and disturbances that made royal fathers in the division to call some people to intervene by finding solutions to the menace. He added that it was the clarion call that gave birth to the IDPIL.
"We did not just come into the security architecture of the community, we are all living witnesses to happenings in the recent past, where cultists were killing themselves all over the place and counting scores with it. This caused everyone to be afraid of coming to Ikorodu to do business or live, and what did all these local government Chairmen did, absolutely nothing?", he asked.
"Ever since we blaze the trail, things have changed tremendously. People can now sleep with their two eyes closed unlike before. What were they doing before then, they did nothing".
While stating that members of the IDPIL are accomplished individuals rendering selfless service to their community, Otunba Abiru said that it was wrong of the spokesperson of Council bosses to speak to them as a Lord.
"As the Executive Secretary of the IDPIL, I want to say with every sense of responsibility that we respect them. No member of the IDPIL is looking for any appointment as Commissioner in Lagos State, rather, we are just rendering community service. We have people that have made their marks in their chosen careers and now rendering community service", he said.
"We have a SAN as the Chairman, three former Commissioners, Assembly member, I retired as Permanent Secretary. Clerk of the Assembly and we also have a retired Colonel and others. For a local government Chairman to come out and speak as if he is a Super Lord, it is to me, vey unbecoming of him", Otunba said without mincing words.
"I think that the community must know the truth of the matter. We did not just wake up one day to say that we wanted IDPIL. It was a clarion call and some of them are in various committees and their names are still there till date".
Otunba Abiru, who served as Executive Secretary, Ikorodu Local Government and was elected twice as Chairman, Ikorodu – Oga Development Association (IKODASS) with commendations, said that the community initiative is ready to partner with any arm or agency of government, non – government bodies and individuals for the realization of its objectives.
Aside security and education, which IDPIL has intervened in with laudable impacts, the Executive Secretary reiterated the position of the body's Chairman at the presentations of scholarship and bursary awards, that the body will also intervene in Health, Environment and Road Rehabilitations.
"We in the IDPIL want to collaborate with anybody that will make whatever that we are doing be realizable", he said.
"As far as we are concerned in IDPIL, we are ready to work together with any agency of government and they should bare it in mind that we are not only on security. Our five points agenda with the acronyms 'SHEER', means that, aside Security, we will also intervene in the Health, Education, which of course we did it through the bursary and scholarship and of course, we will also intervene in the issue of Environment and Road Rehabilitations", Otunba Abiru added.
"We first intervened in Security because without adequate security, no other development can take place. IDPIL represents the interests of the people. We are Proletariat, and our business is in the development of our community", he explained.