ABOUT IKORODU DIVISION PEACE INITIATIVE LTD/GTE
The Ikorodu Division Peace Initiative LTD/GTE (IDPIL/G) is a community initiative and a 'child of necessity' birthed
by the rising wave in crime and general state of insecurity within Ikorodu Division in recent time,
especially the nefarious activities of the cult groups, Land grabbers and some other miscreants.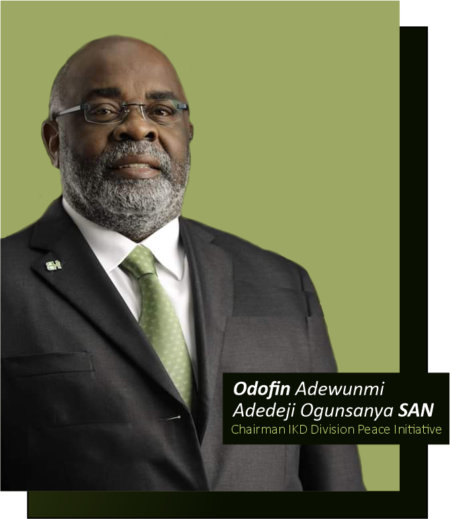 OUR MISSION
To continually provide logistics and operational support to security operatives and local security outfits for the enhancement of existing security architecture while promoting peaceful co-existence among the residents by employing the tripod of accountability, transparency and professionalism in the management of the Board's Funds and in the operation of the security operatives.
OUR VISION
To put in place a sustainable local security system and arrangement aimed at complimenting the efforts of governments at various levels and security agencies in ensuring safety of lives and properties, thereby facilitating the promotion of peace and commerce.
To promote an atmosphere of PEACE, SECURITY & COMMERCE within the Division, through the provision of a robust security architecture and a well-motivated Security Personnel
To mobilize resources for self-help community-oriented programmes which bothers on refined security apparatus to compliment the conventional Police outfit and operation
To create arrays of opportunities for Youth development and empowerment
To monitor, coordinate and regulate the activities of the local vigilante groups within the entire Ikorodu Division, while ensuring their activities fall within the confines of the law of the State and the Nation
To create a conducive environment, where business, trade, education and commerce will thrive unhindered.
To partner and work assiduously with Government Agencies, Corporate Organizations and individuals for the accelerated development of Ikorodu Division in all areas of human endeavors.
Ikorodu Division Peace Initiative LTD/GTE is a divisional product which has the membership of its Board of Trustees cut across the major towns in Ikorodu Division. For purpose of information and record, members of the Board of Trustees.
Members of the Board of Trustees had been carefully composed to include accomplished individuals in their various chosen professions with impeccable character and noble antecedents across the Division.
For easy administration and better operation of the security operatives and following the existing Local Government/Local Council Development Area structure, the Ikorodu Division Local Joint Task Force was sub-divided into six zones with all the major zones with their operational heads. The zones are:
Zone 1 Ikorodu Central
Zone 2 Ikorodu west LCDA
Zone 3 Igbogbo/Bayeiku LCDA
Zone 4 Ijede LCDA
Zone 5 Imota LCDA
Zone 6 Ikorodu North LCDA
The Organization itself is structured into four to enhance efficiency and effectiveness.
Board of Trustees
Executive Council
The Management headed by the Executive Secretary
Committees
Odofin Adewunmi Adedeji Ogunsanya, SAN – Chairman
Asipa Kaoli Olusanya Olatunji –  Vice Chairman
Otunba Ganiyu Olusegun Abiru – Executive Secretary
(Col) Bolaji Titilola Onafowokan (Rtd) – Member, BoT
Sir (Engr.) Rasheed Omokayode Shoderu  – Member, BoT
Moses Oladunjoye Oyebo – Member, BoT
Adebimpe Nosimot Akinsola – Member, BoT
Otunba (Engr) Adekunle Oduborisa – Member
Chief Alade M. Josua – Member
Chief Adeleke Oladeinde – Member
Otunba Ayodele Elesho – Member
Apase (Engr) Lukman Ishola Erogbogbo – Member
Security Assembly Sub-committee
Liaison and Monitoring Sub-Committee
Intergovernmental Relations Sub-Committee
Fund Raising Sub-Committee
Operations & Strategy Sub-Committee
Publicity, Education and Enlightenment Sub-Committee