The six Council Chairmen in Ikorodu Division area of Lagos State, Southwest, have, once again, openly expressed their opposition to the divisional security architecture – Ikorodu Division Peace Initiative Limited/GTE (IDPIL/GTE), put in place by the royal fathers and other eminent personalities in the division.
The IDPIL initiative, which was launched in March with the procurement, presentation and distribution of massive security equipment to various security formations towards assisting the division in terms of security, has been a welcome development which residents have lauded as an impactful intervention.
It would be recalled that council administrators in Ikorodu had, on the eve of the IDPIL's equipment launch, called a press conference to prohibit what they termed, "operation of security organisations and vigilance groups that are not registered with the Corporate Affairs Commission (CAC) and the six Councils".
They also assured that they are working towards the establishment of the Ikorodu Division Security Trust Fund which many saw as direct opposition to the establishment of the Ikorodu Division Peace Initiative Limited/GTE (IDPIL/GTE).
Since its formation, the IDPIL initiative has gone beyond making lives and properties safer in conjunction with other conventional security agencies like the police, to delving into education by giving out scholarship and bursary awards to students in Ikorodu Division.
The educational support scheme has, however, been described as the the biggest in the history of lkorodu division and by any non-governmental body in Lagos State.
The latest opposition by the council Chairmen, which many have described as open confrontation to the divisional security initiative, came at the Adeboruwa at the weekend, the venue of the presentation of scholarship and bursary awards worth N20 Million to 195 beneficiaries.
Builder Sesan Daini, Chairman, Igbogbo/Bayeku LCDA, the host Chairman who spoke on behalf of his other five colleagues, quoted Section 14 (1) sub sections a, b and c, of the Nigerian Constitution, to state that IDPIL is operating unconstitutionally in venturing into security matter without the approval of the Council Chairmen in lkorodu Division.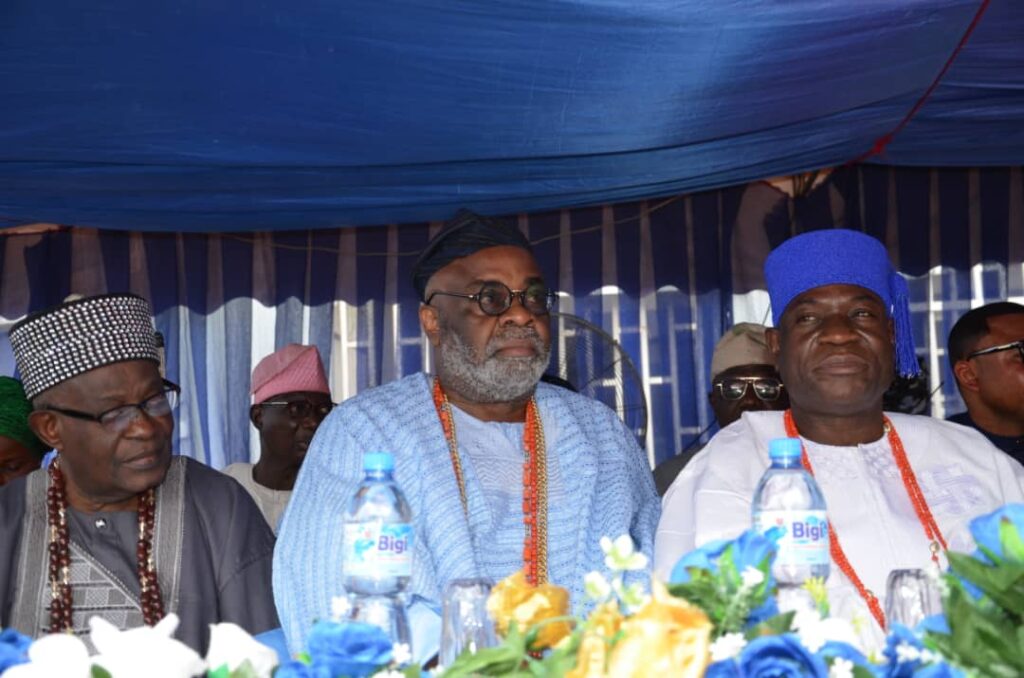 He said that security matters are the preserve of the Federal, State and the Local Governments.
"I want to make this clear that the six council chairmen in Ikorodu Divisions are here except Motunrayo Alogba, the Chairman of Ijede LCDA whose father in-law is celebrating his 90th birthday today, but is here with us in spirit. I want to say that all the council chairmen appreciate this (IDPIL's efforts in educational and security developments); we commend the organizers of this", he said in appreciation of the IDPIL's educational intervention.
"We also want to pass this message across that for some people that believe that we have issues with the (Ikorodu Division) Peace Initiative, we don't. We are elected representatives of all of you and what we are doing is to make sure that things are done right.
"On education and all other projects that you (IDPIL) are engaging in, we are ready to support. It is because we are supporting this, that is why we are here.
"But there is something that I will state clearly on behalf of all of my colleagues, that on security matters, we stand on our position, that the Section 14 (1) sub sections a, b and c, of the Nigerian Constitution is clear about it, that the security and the welfare of the people shall be sole responsibility of the government", Daini quoted.
"When we talk about the government, it is the federal, state and the local (governments). So, anybody who intends to share that responsibility with us or support us is welcome, but (it must be) with our involvement; full clarity and understanding", he stated emphatically.
He said that anyone or group that fails to get the approval of the Council before intervening in security matters will be working against the constitution which amounted to running a parallel government.
"Whosoever that does not take that in helping us, we would take it as running a parallel government in exhibiting our constitutional responsibilities. Any other thing that they are doing in the community, we stand with it; we support it and we will put in our best to support it. Thank you very much", he declared on behalf of other Council Chairmen.
In his brief reaction, Chairman, IDPIL/GTE, Odofin Adewunmi Ogunsanya, SAN, said that the group did everything to carry along the Council Chairmen who failed to be part of it.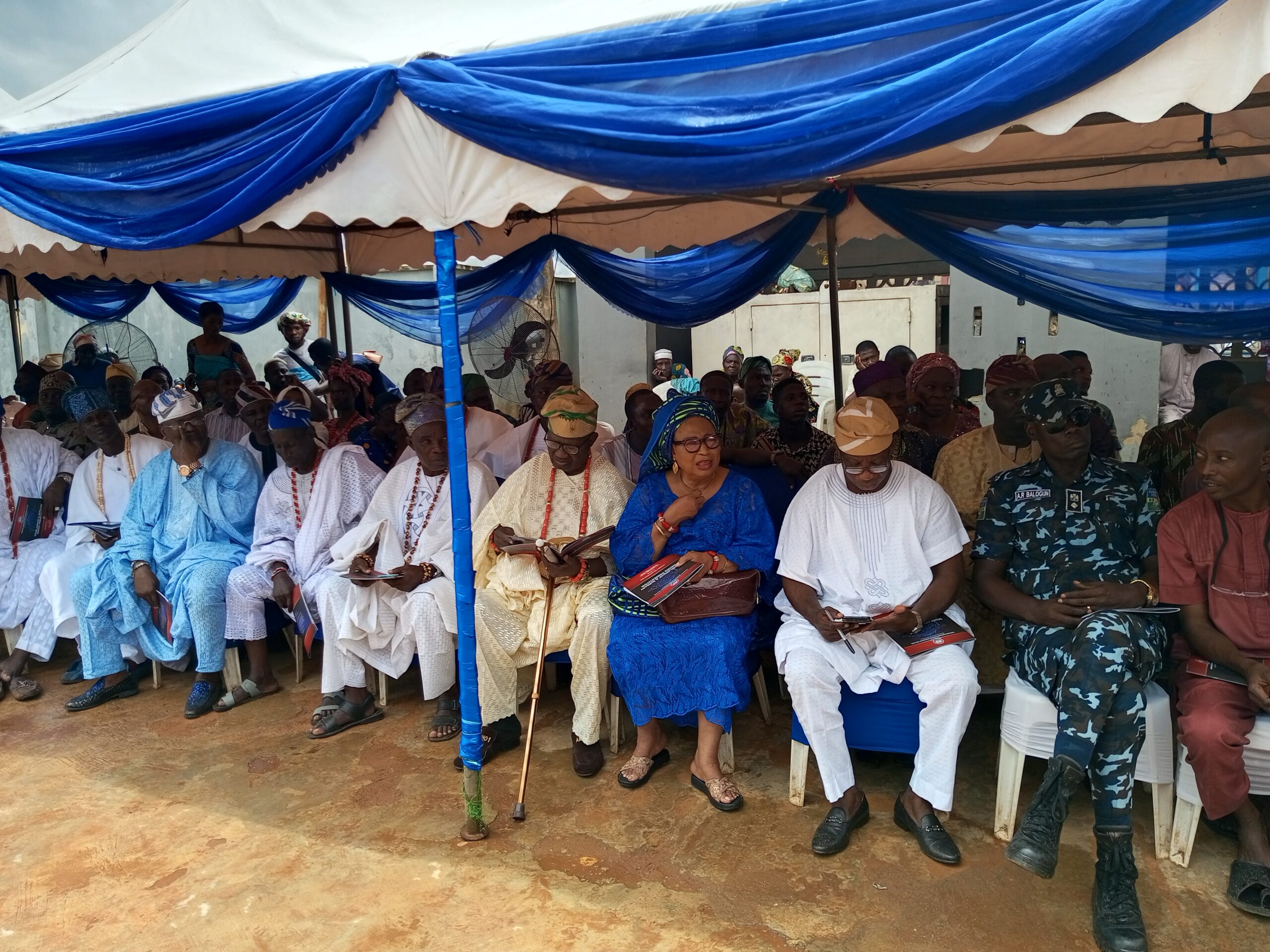 He also revealed that the IDPIL/GTE which is a registered body sought the approval of the Lagos State Government in establishing the security architecture for Ikorodu Division and were granted the approval.
"The Governor of Lagos State gave us the approval that we should go ahead to form and do what we intend to do. The Government of Lagos State is the superior body to the Local Government and we seek and obtain consent from Governor Sanwo – Olu to embark upon what we embarked upon. We are not lawless people".
The Ranodu of Imota, Alaiyeluwa, Oba Ajibade Bakare Agoro, FCA, while publicly commending Odofin Adewunmi Ogunsanya and the Peace Initiative, added that there is no provision of law without limitation, in response to the Council Chairmen's claim.
He declared that the entire royal fathers in the division are in support of the intervention of the IDPIL in the security matters in the division.
"All the royal fathers have resolved that we don't want to hear about the bickering over whose responsibility it is to handle security matters in Ikorodu", Ranodu said.
"I am not a lawyer, but by the grace of God Almighty, I am a Chartered Accountant and in the law courses that I undertook, we were told that there is no law without exception", he added.
"What the local government chairmen's representative quoted is right, but in interpreting that portion of the constitution, it is only when we are secured and at peace that we can have good governance. We are in Ikorodu Division and we are at peace.
"We are here today to honour one of us who made his money by the grace of the Almighty God and felt that he must give back to the system without prompting from anybody and that is Odofin Adewunmi Ogunsanya".
While acknowledging the concern of the Council Chairmen, Ranodu further reiterated that the royal fathers are fully involved in the security architecture for the Division and that they must stop protesting against it forthwith.
"Local government chairmen should be aware that elders have intervened and are involved. We must not hear any further protest henceforth. It is important that we encourage the person doing this for us and others that will be willing to support us", Ranodu said.
"This bickering has to stop right now so that we don't discourage our own, Ogunsanya. We must acknowledge who is doing it. There are many others that are richer than him in Ikorodu, but how many of them are using their resources for the development of the division?", Ranodu asked.
"You Chairmen only stated the law, but we as leaders and community have resolved the issue internally and you must accept our position. We are still going to call all of you to round table talk but henceforth, we must not hear about the bickering again".
Alaiyeluwa Oba Semiudeen Orimadegun Kasali, the Adeboruwa of Igbogbo, also speaking on the issue, thanked Ranodu for his intervention which he completely aligned with.
Adeboruwa, who is a lawyer of several years standing and a senior State Counsel, pointed to the lack of constitutional power for the royal fathers as the bane of problems in the country.
"Odofin Adewunmi Ogunsanya, is a Senior Advocate of Nigeria, and I wholeheartedly aligned with that. In addition, he is a core traditional man. In Ikorodu, he is the Odofin of Ikorodu and honorarily, he is the Baba Oba (King's father) in Igbogbo. I salute you", Adeboruwa said.
"I am stating all these as a prelude to my position on the roles and responsibilities of our royal fathers in Nigeria which has been unfortunately relegated. In actual fact, religious leaders are now supporting us stating that the striping of royal fathers of constitutional powers has reversed many things.
"Ranodu, in the course of his submission, said something that is very important, that when he was a Chartered Accountant, he did some law courses and I stand by his position and I plead that we must support the brain behind this laudable initiative. He is not just a Senior Advocate of Nigeria but a Chartered Arbitrator. He is a man that mediates and finds solutions to issues.
"He is not shying away from his responsibility and I want us all to support him and we must sheath our swords and move the division forward. The representative of the Scholarship Board said something the other time about what is happening and I am elated. Something that has never happened in any other division is happening in Ikorodu Division, and we must all be proud of it", the royal said.
The Ayangbure of Ikorodu, Alaiyeluwa Oba (Engr.) Kabir Adewale Shotobi, while commending the initiatives of the IDPIL, thanked Odofin Adewwunmi Ogunsanya and the entire Peace Initiative team.
"We thank God that it is the community that we are serving that elected some people into a position of authority which is for stipulated time, but royal fathers and traditional chiefs are permanent authority. They don't go on transfer unlike those elected that have limited time. You will serve your term and leave, but the community will succeed you"."We thank God that it is the community that we are serving that elected some people into a position of authority which is for stipulated time, but royal fathers and traditional chiefs are permanent authority. They don't go on transfer unlike those elected that have limited time. You will serve your term and leave, but the community will succeed you".
The royal father, who is the First Permanent Vice Chairman, Lagos State Council of Obas & Chiefs and Permanent Chairman, Ikorodu Division Chieftaincy Committee, reacting to the position of the Council Chairmen, blamed the removal of royal father's constitutional power as reasons why the Council Chairmen have the effrontery to question an initiative which has their backing and was designed in the interest of the community.
"People always take their issue to palaces and not to any Chairman's or DG house. We are the ones that they always faced with everything and not Chairmen. It is not their fault; it is because they have eroded the functions of traditional rulers in the government setting. We would tolerate and absorb them because they are our children. We will educate them and continue to put them through the light", Oba Shotobi added.
"We got the approval of the governor before we started all these things and we cannot shy away from our responsibilities. It's our commitment to our community and our future".
Many of the eminent persons and other residents that also spoke on the stance of the council chairmen also condemned their action against the IDPIL's intervention.
Meanwhile, Hon. Sulaimon Kazeem Olanrewaju, Chairman, Ikorodu West LCDA, who looked furious during the impasse at the Adeboruwa palace, said that he has no reason to be opposed to what the IDPIL is doing with its intervention in education and security, but that he took exception to the way all the chairmen were being derogated.
"What IDPIL are doing are very commendable and are necessary interventions too, but I am only concerned by the way that we were all being derogated at every given opportunity. They are our fathers and they must continue to engage us", he said.
"I was not aware of what had transpired before my election, until some months into my administration because I came in last year. It was some months back that I heard that they invited Council Chairmen. I wasn't privy to all that, but even at that, we are their children and they needed to continue to call us.
"We also have the interest of the division at heart and our only interest is that things must be done properly.
"What they are doing with so much money is not only meant for them alone but the entire Division, and they are laudable initiatives. So, why would anybody oppose that when it is even helping us? No matter what, we will still partner in moving the division forward", he said.
Hon. Sulaimon, however, commended Odofin Ogunsanya and the royal fathers for their understanding.